A quick update
While out on Sunday 2018-05-13 in Holyhead Bay I noted these pot buoys without flags
Photo taken from 53.359, -4.614
These have been reported to
Fisheries Officer
Ffôn/Tel: 03000625777
Mobile: 07817124437
E-bost/E-mail: This email address is being protected from spambots. You need JavaScript enabled to view it.
CA Lobster pots campaign – the petition is live!
[Thanks to Paul and Cath Bond for bringing this to our attention once again.]
This video was launched at the London Boat Show with a special mention in it of Holyhead and sailing round the top of the Island!
Thanks to everyone who has expressed an interest in the CA's safety campaign which is backed by CA patron, Sir Robin Knox-Johnston and Yachting Monthly.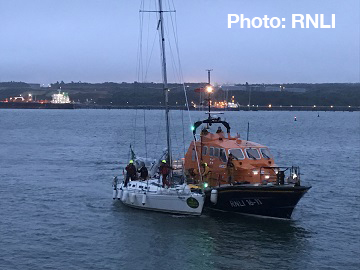 If you support the CA's campaign, please:
sign the petition – https://petition.parliament.uk/petitions/200001 - even if you had already done so, as previous votes can't be carried over
carry on reporting incidents to us via

This email address is being protected from spambots. You need JavaScript enabled to view it.

, and go to the link to fill in the new RYA form
tell your friends, family and club members about what we are trying to do
It's time to change the rules for safety's sake.
Further details are in the CA Newsletter lobster pot special.